In the last several days, there has been a flurry of activity centered around a problem that we all have. If you've ever sewn a Vogue, Butterick, McCalls or Simplicity pattern, you'll probably recognize what I'm talking about. Did your project turn out the way you expected it? Did it look like the pattern envelope? If it did, how much did you have to alter the pattern to make it look that way?
Robin
,
Shams
,
Anne
and
Barbara
have all posted eloquently on this subject. The Big 4 uses an outdated fit paradigm, and complicates matters by adding significant amount of ease to their patterns. The pattern instructions use outmoded methods, when they make sense at all. As a result, choosing a size is pretty much total guesswork, combined with a little advanced math and geometry. The end result is based much more on the experience level of the sewist, and not on the quality of the pattern. While I don't think I can add much to the wise words penned by the preceeding bloggers, I'd like to add a little experiment, and I hope that some of you will try this out yourself.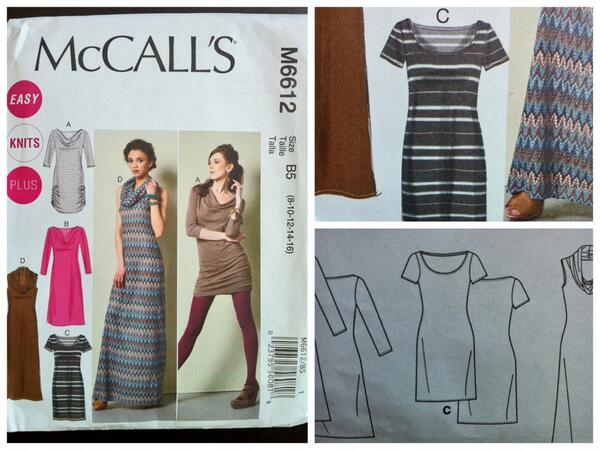 I'm going to start with a basic knit top pattern. This one is described as close fitting. We'll see. I'm going to approach this project from the perspective of the beginning sewist. She's not had any formal sewing training, but she wants to learn, or maybe she's a quilter who wants to sew clothing. (I'm not trying to be gender biased here - I just so happen to be a she.
Boys
sew
,
too
.) Either way, she's found herself at her local fabric and craft store, picked up a pattern and some jersey and set out to teach herself to sew. I'm going to cut and sew this pattern as McCalls instructs, basing the size on my full bust and using the pattern instructions to construct my top. When that is finished, I'm going to make the top my way, using my "typical" Big 4 size and alterations, and constructing the top using modern knit construction methods. Then I'll share the tops with you.
If this sounds like a fun experiment to you, I hope you'll try it out yourself as well. I'd love to see some change happen, and I think that if we get a lot of voices to make a big noise, maybe we can find the ear of the powers that be at the Big 4. Are you in??