This is a cute little quickie from New Look. I really like their patterns. They are simple, inexpensive, but still cute and fashionable. This one is REALLY simple. The dress (sans applique) takes about 45 minutes from cutting to
finished
. The pattern included detailed instructions for how to do the appliques pictured on the envelope, but I think this is a great opportunity for some creativity!!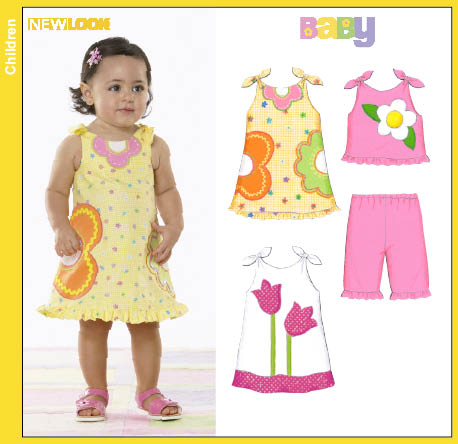 View A and B are the same, saving the hem details. A has a ruffle, while B has a contrast band.
Here is view B - sans band and with my own applique. The matching shirt is
Butterick

3475.
This is View A, made of denim with a satin facing and ruffle. I love the look of the ties with a contrast facing! I think it is a little blah as is, so I'm thinking of adding a hot pink flower applique to the lower part of the skirt.
View C is a top, basically a short version of the dress, and D is a pair of ruffled pants. I made these out of red flannel last Christmas, and they went together easily as well. They are very simple pants with a ruffle at the hem.
Big brother's green pants are
Butterick

4222
.
This is a great pattern for a beginning seamstress. It is very simple, but there are some great techniques that you can learn. For the more advanced, it is still a fun, quick pattern, with lots of
customizablity
.