I've got a few weddings this season that I am sewing for. The first upcoming is actually just some alterations to a bridesmaid's dress - I'll show you that when I finish. The other is a bolero jacket for a lovely bride who found her dream dress, but needs to cover her arms and shoulders, as it is strapless. I'm making her a bolero to wear over the dress.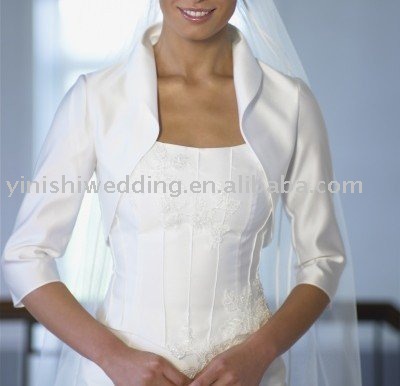 This is her inspiration photo, although she wants her sleeves to be cap length. For the pattern, she has chosen
Simplicity 2659
, which is an OOP wardrobe pattern with a short bolero with a wide pleated collar. I'll remove the pleats from the collar, shorten the sleeves and shorten the bodice in back to reveal the buttons along the back of her dress. I whipped up a quickie muslin to determine the exact changes we'd need to make and to check for fit.
Isn't she cute?! The fit is great out of the envelope - how awesome is that! The two folds under her bust are just from the tucking I did in back, not a fit issue.
Here you can see that I folded up the sleeve and CB to the length she wants. Other than eliminating the pleats on the collar, these are the only changes I'll need to make, so as soon as I finish the bridesmaid alterations, I'll cut this out. The dress came with a wide, long sash that Danye won't be using, so I'll be cutting the jacket from that. Fun!